Our Services
The services rendered by AJ Security Guard Services are considered to be one of the most professional throughout the entire United Arab Emirates.
We supply only the most highly experienced, fully trained by the National Security Institute (NSI) in UAE who meet PSFRD (Private Security Firms Regulatory Department) and SIRA (Security Industry Regulatory Agency) Standards, as all our guards are PSFRD and SIRA licensed and all of them have considerable experienced from their own country.
Once an AJ Security guard is on site, you can rest assured that all of your security needs are being met, and surpassed. That's because our guards are highly trained individuals who pass various testing requirements before they are allowed to wear the coveted AJ uniform. AJ guards are closely monitored by a Patrolling Supervisors to ensure that everything is executed accordingly and see if any problems arise. AJ Security guards are trained for any environment and can handle any security challenge that your organization may be confronted with.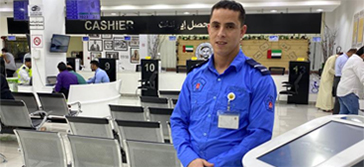 Bank security
Bank security is always a top concern for everyone. AJ Security guards keep order, protect property, enforce regulations and ensure safety. In banks, they guard against robberies. Our guards spend long hours watching camera monitors or walking a regular beat around a bank. And we have been delivering security services for all types of banking institutions.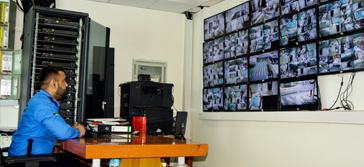 Security Solution
CCTV, Video Surveillance: Installation, Repair and Upgrades Multiple camera system for any fields (i.e. Industrial fields, School fields, Bank fields) Control Rooms The need for 24-hour ongoing surveillance has never been greater. With a 24-hour surveillance system in place, anyone looking to commit a crime will instantly be deterred from doing so. Video security systems are the perfect way to protect against problems, and AJ Security has been handling surveillance systems throughout UAE. Whether you need a full installation, or simply need to upgrade your surveillance equipment, we can take care of your job quickly and efficiently. AJ Security can routinely handle surveillance system repair, so all aspects of your security camera and surveillance system are ensured to work properly.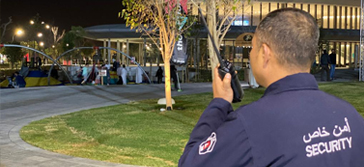 Special Events
AJ Security is an excellent choice for special events, conferences, conventions, concerts, private parties, charity events, business gatherings, marketing exhibitions, red-carpet events, sports events and black-tie affairs. We had been coordinating sophisticated security operations for well-known arenas, amphitheaters, stadiums, major concert tours, high-level red carpet events, 5 star hotels and casinos, racetracks and political gatherings. Either big or small event/function we will tailor it to meet your needs and to ensure the smooth running of the event/function.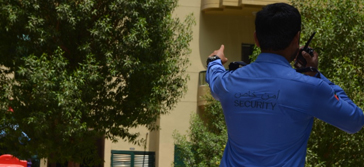 Hospital Security Services
Personal safety and security are very important to us; our security guards will patrol your hospital around the clock. Hospital security is also a top concern, and AJ Security is always ready to solve your problem. The critical assets of a hospital - its people, property, information and reputation - must be protected with good security guards. AJ Security provides hospital security services throughout United Arab Emirates. When it comes to protecting hospitals, our AJ Security officers comes first.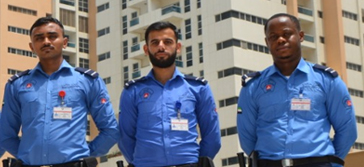 Hotel Security Services
For Hotels, Clubs, Resorts, Motels, Villas, and Apartments, security is an obvious priority. If you are an owner, you need to ensure that your premises are completely safe for your customers. These are the few buildings that can be entered without restriction. What you need is us. We provide high level of service, supplying highly trained guards to the same high standards required by the PSFRD. Our AJ Guards will harmonize and support your daily operation to ensure a friendly and welcoming environment.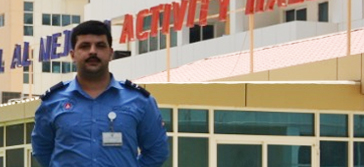 General Security Services
-Malls, Large Retail Stores,
-Elementary, Higher Education & Universities,
-Government Institutions,
-Private Properties/ Establishments,
   Malls/ Large Retail Stores come in all sizes from the giant malls to the small strip-center with only a few stores.
What they all have in common is a parking lot. Most violent crimes committed in the parking lot are purse snatching, strong arm robbery, carjacking and abductions. Whether it is theft of a store, or stealing cars while customers are shopping, thieves will take whatever opportunity is given them. AJ Security has security guards that are fully trained to combat this threat.
AJ Security provides security services for both large and small shopping centers and retail stores as well. When it comes to protecting mall shoppers and employees, and guarding against theft and burglary, AJ Security officers are always at the top of their class.
School security has been in the headlines in recent years due to incidents of high-profile school gun violence and bullying. School security guards are necessary. Teachers and administrators must have a lot of patience to deal with daily misconduct. School security is a top concern, and AJ Security is ready to solve the problem. Our commitment to creating the safest possible environment has earned us a reputation for excellence and long-term client relationships. Our clients know they can depend on us to be proactive and highly professional. When it comes to protecting students and administrators in the schools like Elementary, Higher Education, and Universities our security officers are always at the top of their class.
Private Properties & Government Institutions brings many important responsibilities. One of the most important is proper security management. As we converse security is necessary in order to keep employees and their belongings safe. AJ Security's services will provide expert protection for your properties and institutions. Our security officers will keep your office building free from vandalism and break-ins, and maintain employee and vehicle safety.
Establishments are prime targets for vandalism and break-ins. Establishment with offices in an establishment buildings are subject to computer equipment theft, while vandalism is always a problem that must be dealt with.
AJ Security provides professional security management to make sure your establishment is not the next to be burglarized. At the same time, our security officers will guard against vehicle break-ins and personal attacks.
Having a visible security officer presence will make sure that your office establishment is safe, and keep employees feeling secure and protected. AJ Security officers professionally handle protecting sensitive data, whether it is private client information, or confidential corporate documents. AJ Security ensures employee and data safety with expert visitor control and employee control. AJ Security will keep your office safe, while keeping sensitive data fully secure.
While Parks and Recreational Areas in a community should maintain a relatively relaxed environment, certain rules and security procedures must be followed to ensure that the parks remain safe. These security procedures vary from community to community, based upon where the park or recreational area is located and what type of security measures must be taken. AJ Security can well take care of your needs to ensure your safety as its best. Our guards are vigilant in terms of protecting and won't tolerate intimidation, unruliness and the breaking of park rules. AJ Security has been running into a different clientele and successfully removes the antisocial element."